November 25th, 2005 by
Benj Edwards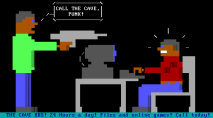 Ah, the entertainment never stops. For an explanation of what a validation message is, check out the first entry in this series.
No, I didn't make any of these up.
Subject: Hey
Name: Unicorn #205 @1
Date: Wed Feb 07 14:09:56 1996
RE: Validation Feedback

Dear Red Wolf,
Hey, ummm…… I don't know what to write. I am a little shy as you might see. Ummm….. I am 12 and in the 7th grade. I have long brown hair that turns reddish in the sun. I have bright green eyes and a normal face I guess. Ummmm………… My friend Glen told me about this thing and it nearly took me forever to get on. The line was always busy and I wasn't about to try again, but FINALLY I got on!! Ummmm…… I am bored. That's why I decided to try this. I did use DNA but it got deleted or something. So, I am glad this BBs came. K-bye.

–Unicorn
Unicorn, I'm glad the BBS came too.
Here's another one for the road:
Subject: MY NAME IS BILLY…I AM HERE TO TALK TO THE SYSOP…SOMEONE
Name: Crash Override #278 @1
Tue May 14 16:20:40 1996
RE: Validation Feedback

MY NAME IS BILLY…I AM HERE TO TALK TO THE SYSOP…SOMEONE NAMED BEN RAMBLE SAID YOU MAY BE INTO KARDING….THAT BEING USING OTHERS CREDIT ARDS TO GET STUFF FOR YOURSELF…IF U ARE I NEED TO KNOW….I NEED A LAPTOP BAD AND I NEED IT BEFORE THE END OF THE SCHOOL YEAR…I WANNA HOOK IT UP TO THE FONE BOOTH AT SCHOOL AND GET THE SCHOOL INTROUBLE FOR HACKING INTOT EH FBI….IF U CAN GET THIS FOR ME PLEASE TELL E…I NEED IT TO COME LOADED….I NEED IT TO THAVE THE FASTEST MODEM YOU CAN FIND…I DONT HAVE ANY MONEY BUT IF I CAN GET THIS I WILL DO ALL THE HACKING YOU TELL ME TO DO AND I WILL DO ABSOLUTELY ANYRTHING FOR U
.
No, I wasn't into KARDING. An interesting note: the Ben Ramble mentioned in his message was a guy I went to school with at the time. He didn't know I was actually Red Wolf, for reasons that this entry explains.
Stay tuned for another exciting episode next week — same Vintage Computing time, same Vintage Computing channel!