November 25th, 2005 by
Benj Edwards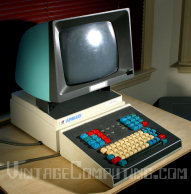 A Proprietary Mystery
All I knew about this box before I bought it was that it was an airline reservation terminal at some point, and that it cost $2. So I went for it, not only because it looks cool, but also hoping that it might be a standard RS-232 serial terminal. Well, so far, no such luck. This thing is pretty weird. I'm not sure what system it was designed to hook up to, but it appears non-standard. It has four connectors in the back: a DB-9, a DB-25, a DB-15, and a female BNC jack (see picture below), labeled J1 through J4 on the chassis. The DB-25 is used for the keyboard. When I initially power it on, all the red LEDs on the keyboard light up and the main unit emits a steady beep that never stops. I guess it's not happy that it's lost its master — whatever mainframe that drove it back in the day (the other very obvious possibility is that it's broken in some way). I can't get anything on the built-in green CRT, not even a cursor of some type. I hooked the DB-9 port up to a modem to see if it might come alive with a serial input, but no luck. Same behavior.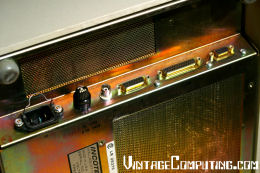 Upon cracking it open, I found some curious stuff. The thing that surprised me most at first glace was that there is no logic on the main board inside the base unit at all– only power supply stuff. And of course, all the video circuitry is in the top "monitor" portion of the box. Also, the the DB-9 and the DB-15 connectors are both wire-wrapped (Exactly how old is this thing?!) to the DB-25 connector, and the DB-25 connector has a few pins connected to wires going to both the monitor section and the power supply. Much to my surprise, the DB-9 doesn't have the usual pins for RS-232 connected to anything (2, 3, and 5, if I recall correctly). In fact, only pins 1 and 6 are wrapped. All the posts on the back of the DB-15 are wrapped and connected to the DB-25. As a result, I would have to guess that this is the main data connector. I also noticed that the BNC jack goes directly to the monitor section; I suspect it's a direct composite video input, which is not too uncommon on terminals at the time. Maybe I can use it as a green screen monitor, if nothing else…not that I need one.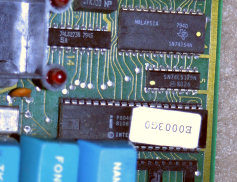 Then I opened the keyboard. That's where things get even more interesting. All the logic is in the keyboard unit itself. That explains the wiring on the DB-25 keyboard connector and everything else I saw in the main unit. Looking for an MPU of some kind, the only chip I recognized in there is an Intel 8048, which is apparently a common (and now very cheap) microcontroller used in some IBM PC-compatible keyboards. According to a few sites I found, the 8048 was first produced in 1977, dating this unit to that year or later. Cosmetically, I initially dated this unit to 1978-79 in my head, so that matches up pretty well. At about this point in messing with the Incoterm, I had to give up and put it back together. Why? First of all, it was cluttering up my dining room floor, making it hard to walk around. Second, I didn't want to forget how to put it back together, and third, I have other things to take apart. 🙂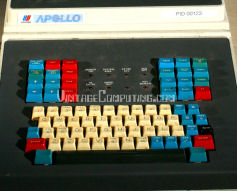 Digging A Little Deeper
Right after writing most of this entry, I remembered that there is a sticker on the base unit that has a United Airlines logo and the word "Apollo" on it. I decided to search Google for "United Airlines" and "Apollo" and I found some neat info — not about the hardware, but the Apollo reservation system itself. There's some computer airline reservation history over at Wikipedia, a United Airlines history page, and airline fan site that says that the Apollo system was set up some time in 1970-71 for UA internal use and made public (to travel agents) around 1976. Then I ran across a cool article from 1996 talking about how the entrenched airline reservation systems like Apollo were on the verge of becoming obsolete thanks to consumers being able to look up flights by themselves on the Internet. Somebody should write a book about how the Internet completely shook up established institutions like that. Well, they probably already have. But as more and more time passes, such books will become less speculative (Wired: "eCrisp: The way you toast bread is about to change forever.") and more historical ("Through blogs, the Internet put editorial power back into the hands of the average man."). I like my toast just how it is.
If anyone can contribute any knowledge as to how this terminal works or anything else about this it, please let me know. Until then, it will remain a nice conversation piece.