Monday, September 26th, 2011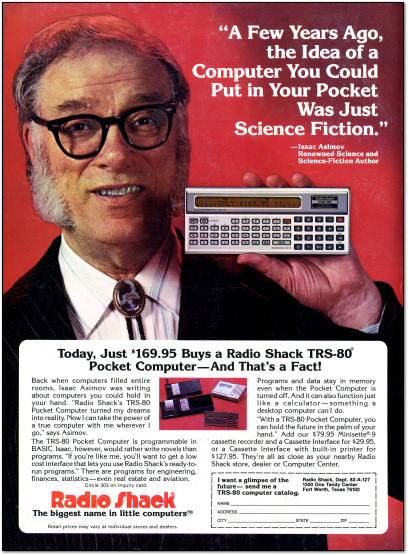 "It's so small I nearly swallowed it."
The TRS-80 Pocket Computer was an amazing little gadget. This 1980 calculator-sized computer packed a full QWERTY keyboard and the BASIC programming language built in. The ability to program BASIC on such a tiny pocket machine was incredible in an age when few calculators were programmable at all, and the ones that were required arcane rituals to program.
I used this exact model myself in high school on some math tests to perform some trigonometry equations in a BASIC program I wrote. Even though that was in the mid-late 1990s, the Pocket Computer seemed so futuristic that the teacher had no idea it was possible. Even today, the Pocket Computer remains incredibly useful for certain tasks. That's an amazing thing to say about a device released in 1980.
[ From Byte, February 1982, back cover ]
Discussion Topic of the Week: What's the smallest computing device you owned prior to the year 2000?