September 11th, 2011 by
Benj Edwards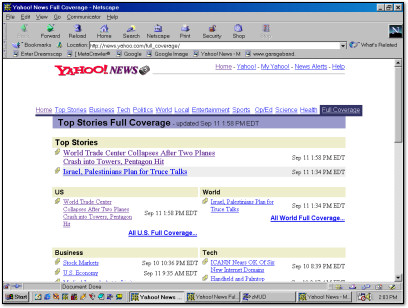 The Full Coverage page of Yahoo News on 9/11/2001 at 2:03 PM EDT.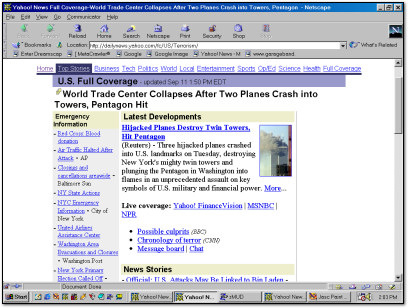 A special terrorism page of Yahoo news on 9/11/2001 at 2:03 PM EDT.
I took these screenshots of the Yahoo News website ten years ago today — on the afternoon of September 11th, 2001. I had recently driven home from the campus of NC State University, which I attended at the time, and checked online for more details about the attacks.
The headlines seen here, with their blunt assessment of the dramatic and unprecedented events that unfolded earlier that morning, were very hard to mentally grasp. I felt like I was witnessing a scene from a Hollywood disaster movie made horribly real.
That's why I took these screenshots. I thought I'd never believe myself, in recounting the events of that day, if I didn't grab some evidence of what it was like to witness it at the time. I'm glad I did. I also filled four VHS tapes with TV news coverage of the event so I could show my future children what it was like. I'm not sure I will be able to summon the courage to watch them for quite some time.