September 12th, 2011 by
Benj Edwards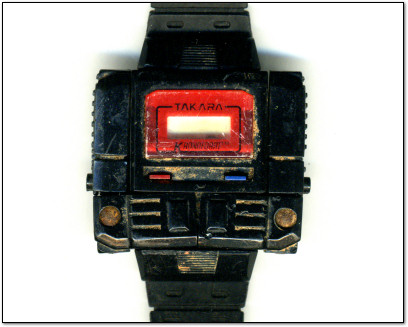 It's like a Transformer on your wrist.
I don't remember where this watch came from. Maybe my parents bought it for my brother before me. Maybe I begged for it when I saw it at a local Revco drug store (as I did with many toys back then). What I do know is that I played with it as a three-year-old kid, and I was completely distraught when I lost part of it in my back yard.
You see, this digital watch isn't just a watch — it's a transforming humanoid robot. The center piece detaches from the wrist strap and unfolds into a tiny robot man. It was first sold in 1984 by Takara, the company responsible for originating the popular Transformers toy line in Japan. At some point I lost the robot part of my watch, and I figured I would never see it again.
A few years later, my mom stepped in from the back yard and presented a dirty piece of plastic in her soil-stained hands. Joy swelled in my heart as I recognized what she had found while digging in her garden bed: my missing robot watch.
It was dirty, of course, and the clock portion no longer worked due to years of weather exposure, but I was still ecstatic. If you ever lost a favorite toy as a child, you know how painful it is. Rarely does one ever find such a missing toy again. This was the one that came back, the one small victory for lost toys everywhere. That tiny hole in my heart, the one left vacant by my missing robot buddy, had been filled.
Ironically, I probably just put the watch in a box and forgot about it. Decades passed. While looking through some childhood knickknacks recently, I found it again and thought you might enjoy the story. It still feels good to know, as I hold this toy watch in my hands, that not all things we lose are gone forever.
—
Discussion Topic of the Week: What's the coolest digital watch you've ever owned? Did you ever own a robot or game watch?