September 19th, 2011 by
Benj Edwards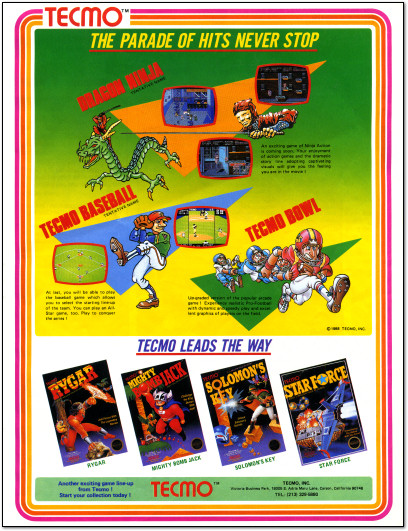 Tecmo Games for the Nintendo Entertainment System (NES)
Now that it's football season, Tecmo Bowl fans out there may appreciate this 1988 group advertisement for Tecmo brand NES games. Tecmo published quite a few high quality titles for Nintendo's 8-bit console, some of which are seen here. Three of my personal favorite Tecmo titles are Rygar, Mighty Bomb Jack, and Ninja Gaiden II.
I was always impressed with Tecmo's box art illustrations and logo designs as a kid — they really jumped out at me when browsing NES games at a local rental store. You can see examples of Tecmo's eye-catching cover designs near the bottom of the ad.
It's interesting to note the presence of "Dragon Ninja (Tentative Title)" in this ad. From what I can tell, it appears to be an early version of Ninja Gaiden.
[ From Nintendo Fun Club News, April/May 1988, p.21 ]
Discussion Topic of the Week: What are your favorite Tecmo NES games?