Friday, September 22nd, 2017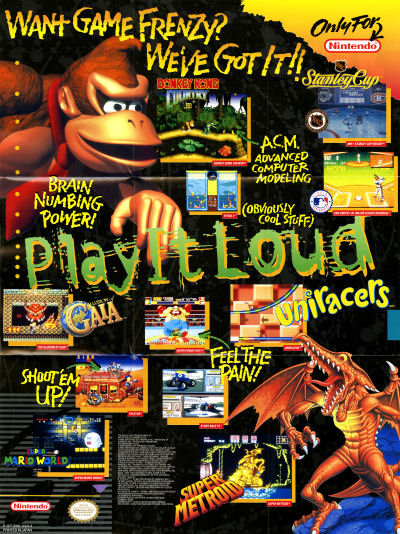 Side 1: Grunge fonts galore
1994 was a very good year for the Super NES. It's around the time when US Super NES sales began to exceed those of the Genesis again, and of course, the release year of some of the games listed on this large fold-out poster. Chief among them, of course, is Super Metroid, which I consider to be one of the greatest video games of all time.
Some people like Donkey Kong Country as well.
This poster came packed with first-party Super NES games sold around 1994 — and I quite possibly got it from inside the Super Metroid box itself. (I wish I hadn't separated all those documents out long ago, but I did it mainly to focus on scanning them for this very column.)
I've talked about Nintendo's Play it Loud campaign before (especially here and here, and here), so I won't go into it again. But it was a very effective campaign that found back against Sega's assault on Nintendo's kiddie image.
The back side of this fold-out poster contained the obligatory Nintendo Power magazine ad, coupled with a non-obligatory Star Fox graphic. Neat.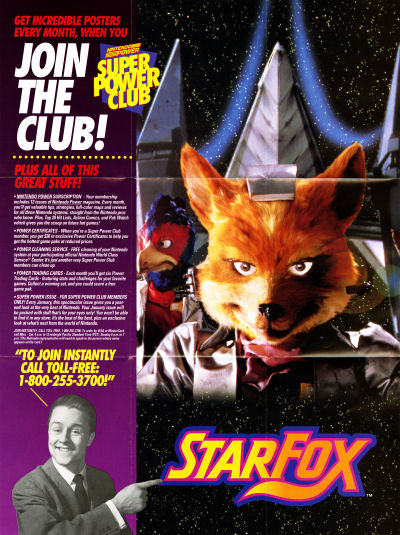 Side 2: While you're at it, subscribe to Nintendo Power
[ From Electronic Gaming Monthly, November 1997, p.8-9 ]
Discussion Topic: What's the most underrated Super NES game?