Monday, July 25th, 2011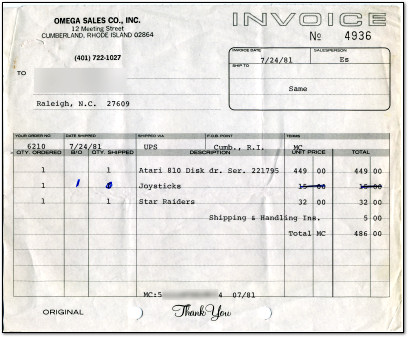 Atari 810 Disk Drive Receipt
Thirty years ago this month, my father ordered an Atari 810 disk drive for our family's Atari 800 from a place called "Omega Sales Co., Inc." in Rhode Island. Thirty years ago yesterday, Omega filled out the invoice you see here and shipped the order to my dad.
From the invoice, you can see that my father also ordered a copy of Star Raiders for the 800 and a set of joysticks. Unfortunately, the joysticks were out of stock and had to be backordered.
I still have our family Atari 810, and I still love the unique sound it makes when reading disks. That device composed the soundtrack to my computing childhood.
Price Check
The Atari 810 sold for US $449 from this vendor, which is equivalent to $1,114.95 in 2011 dollars. To translate, the thing was expensive. The 810 could read 88 kilobytes of data per disk side (one side at a time), which makes for a whopping $12.66 per kilobyte in today's dollars. Right now, you can buy a 2 terabyte (~2,000,000,000 kilobyte) hard disk for $80, which works out to $.00000004 dollars per kilobyte.
A Star Raiders cartridge sold for $32, which is equivalent to $79.46 in 2011 dollars.
A pair of joysticks (I assume official Atari brand) went for $15, which is equivalent to $37.25 today.
[ From Omega Sales Co., Inc. Invoice, July 1981 ]
Discussion Topic of the Week: What's the most memorable computer or video game item your parents have ever purchased for you?