August 31st, 2009 by
Benj Edwards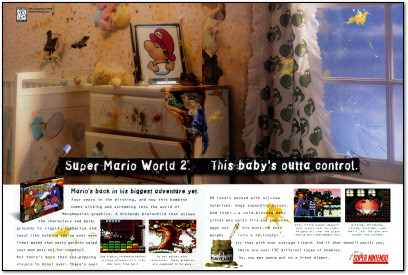 "He goes all over the place (and we don't mean Number Two.)"
Here's a classic advertisement for Super Mario World 2 from the "Play it Loud" era. Baby Mario looks quite destructive.
In the mid-1990s, Nintendo tried to downplay its kiddie image and appeal to the "I'm-awesome-because-I-huff-Easy-Cheese" teenage set. The company's American branch formulated a new "Play it Loud" ad campaign to directly counter aggressive advertising from Sega.
Nintendo's new marketing theme focused on the stereotypical angsty "attitude" of youth in transition, which, in print, mostly translated to grungy fonts, eye-gougingly garish design, and scatological humor. Surprisingly to some, the campaign actually worked — Nintendo regained the lead in the 16-bit market right as that era was ending.
On another note, Super Mario World 2 is one of the best Super NES games, and definitely one of the most underrated. If you haven't played it yet, you're missing out on a platforming masterpiece. Drop everything and get yourself a copy. And don't forget to play it loud(ly).
[ From GamePro, April 1996 ]
Discussion topic of the week: What's the most underrated Super NES game?