September 1st, 2009 by
Benj Edwards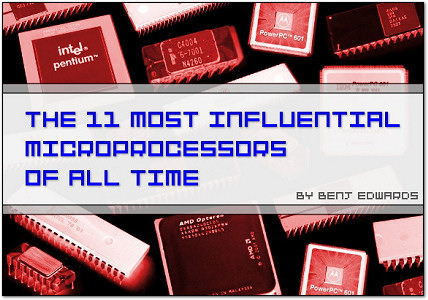 Numbered lists, numbered lists. What would the Internet be without numbered lists? I'll tell you: it would be a lonely, barren place. As much as they seem like a literary cop out, people love them. They go wild for them (or at them). Numbered lists slice and dice facts and figures into tantalizing nuggets of information, easy to consume and digest in today's frenetically-paced world. It seems nobody has the time to read long-form prose anymore.
Some years ago, I realized that this seemingly lightweight article format is here to stay, so I might as well make the best of it. That's why I've dedicated a portion of my career to writing the best numbered lists possible. I may not always succeed, but at least I try.
Exhibit A: The 11 Most Influential Microprocessors of All Time. The fine folks at PC World published my latest foray into the numbered-list genre late last night. It explores some of the most important microprocessors ever devised in a slideshow format, replete with nifty graphics.
As always, I'll include a standard disclaimer that I include for any numbered list: your opinion my vary. Even though it probably will, you might learn something along the way. And perhaps, like me, you'll be oddly invigorated by the quantification of something typically un-quantifiable. It's an exciting weirdness that we can't resist.
I hope you enjoy it.