July 11th, 2011 by
Benj Edwards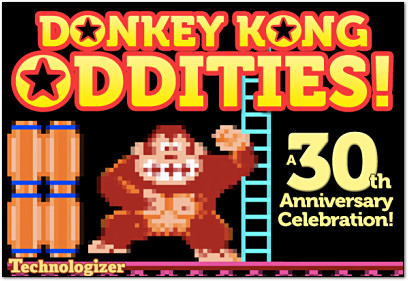 Thirty years ago this month, Nintendo released Donkey Kong in the arcade. The title introduced Mario to the world and turned Nintendo of America's fortunes around.
Since the Mario character first debuted in Donkey Kong, we could just as well be celebrating Mario's 30th birthday. I'm sure someone will figure that out and write about it soon (if they haven't already). But folks celebrate Mario endlessly, regardless of anniversary or season, so I think it's time to focus on his simian rival and the game they first starred in together.
That's why I put together Donkey Kong Oddities, which celebrates the game in that very Benj way — by finding weird and interesting tidbits of Donkey Kong-related ephemera and compiling them in a graphically-rich slideshow. I hope you enjoy it.
Other Entries in Benj's Oddities Series: