Monday, November 2nd, 2015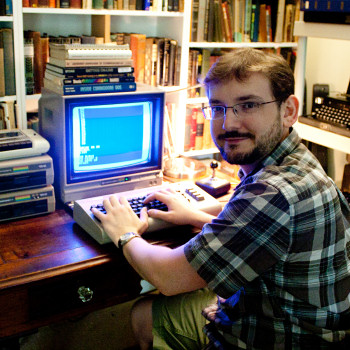 [ Earlier this year, I asked readers what they wanted to see on VC&G's tenth anniversary. Most people said "behind the scenes coverage," but I wasn't sure how to approach that. So I asked my longtime editing partner Harry McCracken to interview me in the hopes that I might accidentally say something interesting about the history of the site. Happy Anniversary, VC&G readers. — Benj ]

I first met Benj Edwards back in 2007, when I worked at PC World magazine and he submitted an article — "The 10 Worst PC Keyboards of All Time" — over the transom. (Actually, we didn't meet in person until later, and his submission arrived in my inbox like any other email, but you get the idea.) Even then, I was already a fan of his Vintage Computing and Gaming website, which was then a couple of years old.
We ended up publishing Benj's keyboard slideshow at PCWorld.com, where it became a monster hit with readers. Since then, Benj and I have continued our writer-editor relationship: first at Technologizer, and today at Fast Company, where I'm an editor and he's a frequent contributor, writing deeply-reported pieces about fascinating topics which everyone else has forgotten about. He's also contributed to The Atlantic, Macworld, PCMag, Wired, and other publications.
Benj has never stopped blogging at Vintage Computing and Gaming, which celebrates its tenth anniversary today. To commemorate the occasion, he asked me to interview him about the site, his other writings, and his pursuit of collectible tech products and the stories behind them. I learned a lot from his answers — and so will you.
–Harry McCracken
10 DAYS OF VINTAGE: Day 1
[ Continue reading VC&G Interview: Benj Edwards, Creator of Vintage Computing and Gaming » ]