April 20th, 2009 by
Benj Edwards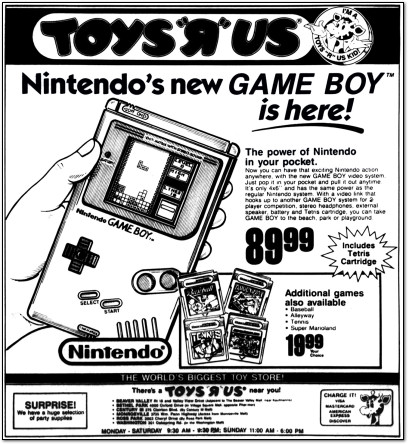 "Just pop it in your pocket and pull it out any time."
[ From The Pittsburgh Post-Gazette, August 23rd, 1989 ]
Twenty years ago tomorrow, the Game Boy went on sale for the first time in Japan. It retailed for Â¥12,500 (about $94 US at 1989 rates), and Nintendo offered four games at Game Boy's initial launch: Super Mario Land, Baseball, Alleyway, and Yakuman (a Mahjong game). Four months later, Game Boy reached American shores with a retail price of $89.99 and a powerful pack-in game — Tetris.
Nintendo's inclusion of Tetris as the US pack-in was a stroke of absolute genius. The handheld version of Alexey Pajitnov's addictive puzzler made such waves in US that its release will long be remembered not just as a defining moment in video game history, but as a major cultural event for an entire generation.
As we now know, Game Boy's long and successful run created an immense legacy, far beyond just Tetris. Overall, publishers released 1246 licensed games for the Game Boy in Japan and 952 in the US. To date, Nintendo has sold 118.69 million units of the original Game Boy line (including Game Boy Color) worldwide.
Above, we see an original Toys 'R' Us newspaper advertisement announcing the arrival of the Game Boy and its launch games in the United States. (Gotta love that line art.) It really brings back memories of my excitement regarding Nintendo's first handheld system.
Discussion Topic of the Week:
In your opinion, what factors made the Game Boy so successful?
On the other hand, what mistakes, if any, did Nintendo make with the Game Boy over its twenty year run?

More Game Boy Scans & Coverage:

If you use this week's image, please support "Retro Scan of the Week" by giving us obvious credit for the original scan. Thanks.