September 3rd, 2007 by
Benj Edwards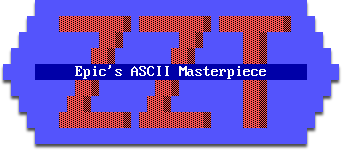 Read any popular game publication these days, and you'll probably come across ample mention of Epic Games' Unreal Engine, the 3D powerhouse behind blockbuster first-person shooters like Bioshock and Gears of War. Believe it or not, one of today's hottest game engines traces its roots back to a 2D text-based game programmed by a University of Maryland college student during the golden age of shareware.
Tim Sweeney founded Potomac Computer Systems in 1991 with the release of ZZT, a graphical ASCII character-based game that ran on a simple object-oriented platform programmed by Sweeney. With an in-game editor, Sweeney created multiple ZZT episodes that he sold to finance the new company. Luckily, Sweeney didn't limit the in-game editor to himself; it featured prominently on the title screen of the free shareware edition. Much to Sweeney's surprise, the editor itself soon became the most popular part of ZZT, allowing players to create their own games in the ZZT engine. Potomac changed its name to Epic MegaGames, and a shareware giant was born.




A large community of rabid ZZT fans still thrives thanks to the Internet, where enthusiasts trade nostalgia, user-made games, and the latest attempts to squeeze every last drop out of the ZZT engine through emergent programming techniques. For example, clever world builders have managed to reproduce just about every major 2D game genre — even genres the engine wasn't designed for — in ZZT's editor, albeit in primitive forms. For modern ZZT fans, the game's fun lies not only in playing the community's user-created games, but in the challenge of creating new and unexpected things with a simple set of tools and components.
The original shareware package of ZZT only included one game: Town of ZZT, a whimsical adventure created by Sweeney that calls upon a player's action and puzzle-solving skills. But in the late 1990s, Epic released all of Sweeney's classic ZZT episodes as freeware, so you'll find those worlds in the file below as well, including Dungeons of ZZT.
Have fun. Feel free to share your fond ZZT memories (or latest ZZT exploits) with the rest of us.
(Update – 05/25/2009: If you love ZZT, check out this interview I conducted with its creator, Tim Sweeney.)
ZZT 3.2
Release Date:
1991
Author:
Tim Sweeney (Epic MegaGames)
Platform:
MS-DOS
Runs Best On:
Any 286 PC or faster with MS-DOS
Notes:

Includes full Town, City, Caves, and Dungeons of ZZT episodes. ZZT runs pretty well on modern computers under Windows. You might also want to try running the game under DOSBox. Uses the PC speaker for sound.
– Download ZZT 3.2 – (175KB)