Friday, December 17th, 2021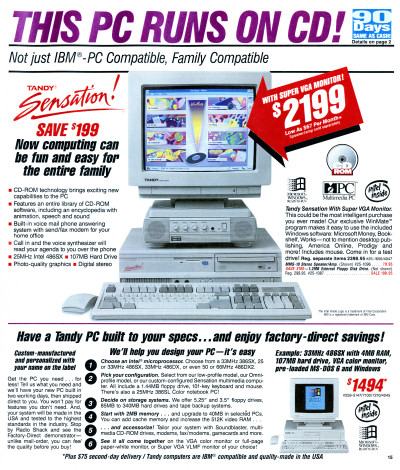 "Now computing can be fun and easy for the entire family."
The Tandy Sensation was an early attempt at a specialized Multimedia PC. In this case, Tandy came up with a 25 MHz 486SX computer with a 107 MB hard drive, built-in CD-ROM drive, stereo sound card, a voice/fax modem, SVGA color graphics, and more.
All this for $2,199 US with a SVGA monitor included (that's about $4,232 today). You could also get the MMS-10 Stereo Speaker/Amplifier for $79.95. It seemed so futuristic at the time.
The Sensation also shipped with the interesting WinMate interface, a successor to DeskMate that ran on top of Windows 3.1.
I miss the ebullient joy of Radio Shack computer bundles aimed at families. They always seemed so fun. I remember seeing the Sensation in a local Raleigh, NC Radio Shack store circa 1993 and wanting one.
By the way — Merry Christmas!
[ From a Radio Shack mail flyer, June 1993, p.15 ]
Discussion Topic: Have you ever owned a Tandy IBM compatible PC? Tell us about it.