November 26th, 2013 by
Benj Edwards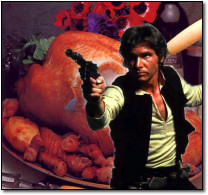 Hello, and welcome to VC&G's 2013 Thanksgiving Spectacular. I'm your host for this evening, Burt Edwards.
Thanksgiving is a great excuse to spend time with family around a four-player game of Gauntlet IV for the Sega Genesis. Or perhaps a Super Bomberman tournament. Or eight-player networked Atari Jaguar Battlesphere? Did I mention a 16-player Mario Kart Double Dash LAN battle?
One of each, please.
But before you stuff yourself with turkey and get lost in multiplayer fragfests, feel free to enjoy the following Thanksgiving-themed posts I have culled from the annals of VC&G history.
That is all for now. Let the thankfulness begin!
Happy Thanksgiving from Vintage Computing and Gaming