December 2nd, 2013 by
Benj Edwards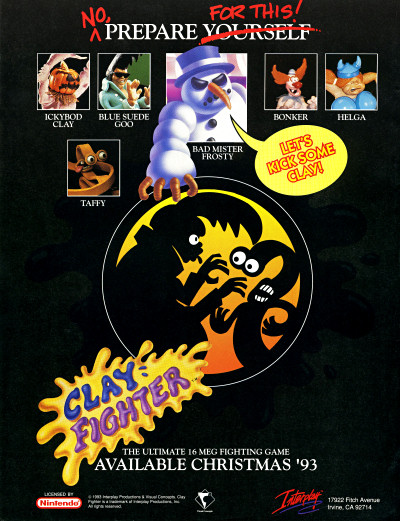 "Hey, watch the hair, man."
My, oh my. What a blast I had with ClayFighter for the Super NES when it launched around this time 20 years ago — in December 1993.
I rented the game several times from Blockbuster and delighted my brother by forcing its Elvis-like character to jump repeatedly, eliciting a humorous"Uh-huh" sound every time. The graphics were great and the spirit of humor was plentiful in this claymation-based title.
The advertisement itself is a parody of an iconic coming-soon ad for Mortal Kombat on home consoles from 1993. Interestingly, I've never featured that Mortal Kombat ad in a RSOTW — that may have to be remedied soon.
[ From Electronic Gaming Monthly, 1993]
Discussion Topic of the Week: What's the best fighting game for the Super NES?