November 20th, 2007 by
Ulaf Silchov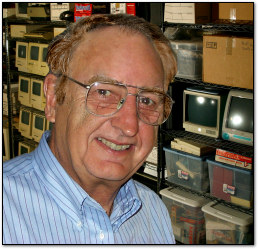 [ Since Kotaku is being guest-edited by Simon Carless, and GameSetWatch is being guest-edited by Karsden Mörderhäschen this week, I figured I'd join in the trend by taking a break for Thanksgiving and leaving good 'ole Ulaf Silchov in charge of VC&G for a while. I'll still be around popping in to check on him, but for now he holds the reins. –Benj ]
ULAF DISCOVERED HIS MIND IN A STRANGER FUNNY POSITIONS THIS MORNING (NO, NOT LIKE THE YOGA). SINCE THE THINKSGIVING DID NOT CELEBRATED IN THE NATIVE COUNTRY OF MY MIND, THE BENJ TELLS ME TO ROLL IN THIS WEEKS WHILE HIS MIND CONSUMED THE TURNKEYS WITH PLEASURE. ULAF CALL IT CLASH OF BARBARIANS, BUT AMERICAS STILL CALLS IT THE THINKSGIVING KNOWLEDGE HOLIDAYS.
THE STORY BEGUN THIS: HIS MIND CALL MY MIND THIS MORNINGS TO TELL ULAF TO EMBODY SPOOKY GHOST EDITOR OF VINTAGE COMPUTERS WHILE HIS MIND RELAX IN FROSTY ELK BACKYARD. ULAF TELL HIM, "ULAF DID NOT USUALLY EDIT GHOST BECAUSE THE GHOST TASTE INEDIBLE." BUT THE BENJ TELL ULAF,
"NO BOTHER. HERE ULAF, WE GIVE YOUR MIND THE KEYS TO THE GARAGE OF MY MIND. DO WHAT YOU WILL WITH PICTURES"
NOW HERE ULAF SIT IN THE GARAGE OF HIS MIND, COLDER THAN GORST CHRISTMAS, BUT SURRENDERED BY THE BEAUTIFUL COMPUTER (AND THE OTHER JUNKS). SO FAR CATS DEFECATED ON ULAF'S LAP TWICE. MORE SAD FOR ULAF, MOST OF THE VIDEO GAMES STAY LOCKED INSIDE THE HOUSE OF THE BENJ. BUT ULAF STILL IN THE GOOD SPIRIT OF VINTAGE TECHNOLOGIES.
PLEASE PATIENCE MY MIND THIS WEEKS, AS ULAF EDUCATE TO WRITE MORE OF THE ENGLISH LUNG WITHOUT TRANSFORMERS AND ENVISION MORE OF THE COMPUTERS IN THE GARAGE OF THE BENJ FOR MY PERSONS TO ENJOY. ALSO ULAF MIGHT TELLS THE FEW SPOOKY GHOST ESSAYS IF YOUR MIND FEELS LUCKY.
THANK YOU FOR READING MY PERSONS. THIS IS ALL FOR NOW. UNTIL NEXT TIME THIS IS ULAF SAYING BE THE MASTER.