July 9th, 2012 by
Benj Edwards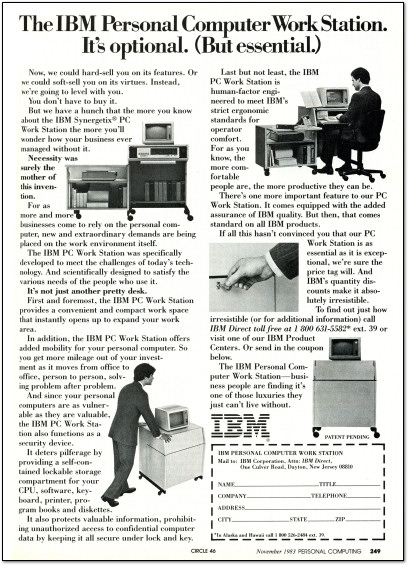 The IBM PC Workstation: Almost as small as a refrigerator.
Once upon a time, IBM made furniture.
Specifically, they created a custom folding desk for its IBM Personal Computer called the "IBM Synergetix PC Work Station," which we see in the 1983 ad above.
IBM registered the trademark "Synergetix" in 1981 to cover its line of IBM PC-related furniture, which even included an official IBM PC Table and IBM PC chair. Big Blue let the trademark expire in 1989, which shows you how successful that idea was.
I've been trying to think of modern analogies to the IBM PC Work Station, and the closest I can come up with is Apple making a special cover for its iPad — although Apple's Smart Cover has been popular and well-received. The Smart Cover also doesn't cost $850 like the IBM PC Work Station did (that's about $1,961 today).
[ From Personal Computing, November 1983, p.249 ]
Discussion Topic of the Week: Have you ever used a desk specifically designed for use with a computer?