July 2nd, 2012 by
Benj Edwards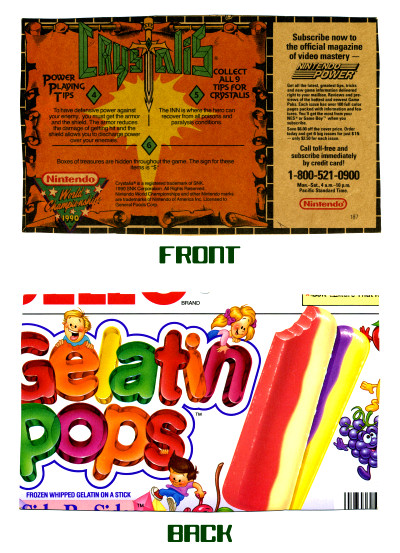 Frozen whipped gelatin on a stick.
I recently found this cardboard tip sheet for Crystalis in a pile of my old stuff at my parents' house. As you can see, I cut it out of a JELLO Gelatin Pops box in or around 1990.
The tip sheet seems to serve a triple marketing purpose: 1) to promote NES games (specifically Crystalis, in this case), 2) to promote the 1990 Nintendo World Championships, and 3) to promote Nintendo Power magazine.
I love finding tie-in marketing artifacts like this — I'm glad I saved it all those years ago.
[ From JELLO Gelatin Pops box, circa 1990 ]
Discussion Topic of the Week: Do you remember cutting video game tips out of boxes, magazines, or other paper publications? Tell us about it.