September 14th, 2015 by
Benj Edwards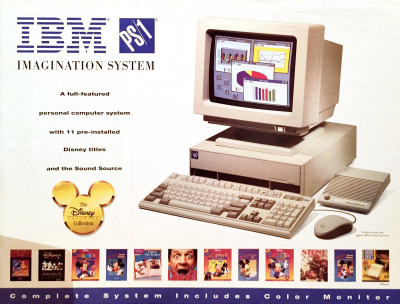 IBM and Disney go together like peanut butter and petroleum jelly
Just before my brother left for college in the fall of 1994, my whole family went shopping for a new PC to send off to school with him. We made our way to an IBM PC factory outlet near Durham, NC. Upon walking in to the store, I remember being amazed by rows of 20-foot tall warehouse-style shelves, each one stacked with large boxes for IBM PC systems. A salesman met us at the door and apparently steered my father toward this: the IBM PS/1 Imagination system. I guess it was a good deal.
The machine itself came equipped with a 25 MHz 486-SX CPU, 4 MB of RAM, a 2400 BPS modem, and a Disney Sound Source (a sort of primitive SoundBlaster that plugged into the parallel port). Unlike earlier PS/1 models, this one shipped with MS-DOS 6 and Windows 3.1. It also came with a suite of pre-installed Disney software that my brother promptly deleted.
My dad also bought an unusual IBM-brand external ISA CD-ROM drive that required its own peripheral card. There wasn't enough room in the PS/1 case for a CD-ROM drive and a 5.25″ floppy.
After college, my brother took this machine to work with him as a programmer, and he used it there until it was long outdated — probably until 1999 or so. It now rests safely in my collection, although the hard drive is now shot, and I think the power supply is fried too. Almost a decade ago, its rubber feet chemically decomposed into the most abysmally black and sticky tar that you can imagine. I need to restore the machine.
Just recently, I found the rather large shipping box for this computer sitting in my mom's attic. Today, it holds miscellaneous housewares. This "scan" is actually a perspective-corrected photo of the side of that box (here is the original photo).
[ From IBM PS/1 Imagination System Box, ca. 1993]
Discussion Topic of the Week: What computer did you take with you to college?