June 16th, 2008 by
Benj Edwards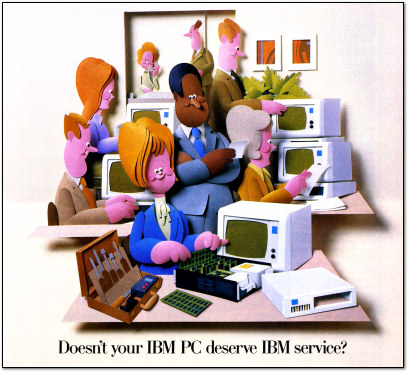 Click on the image above to see the full advertisement.
I scanned this incredible piece of vintage computing artwork from a 1986 magazine advertisement for IBM PC service. It looks like it was rendered in layers of colored construction paper to achieve a 3D effect. The result is very unique, vibrant, and friendly. Does anyone know the artist responsible for this work?
By the way, here's a high-resolution version of this piece in PNG format for those of you out there who might want to turn it into a desktop background. Heck, print it out and put it on your wall.
[ From Personal Computing, March 1986 ]
Discussion topic of the week: Have you ever paid someone to fix your computer for you?
If you use this image on your site, please support "Retro Scan of the Week" by giving us obvious credit for the original scan and entry. Thanks.