June 13th, 2006 by
Benj Edwards

[ Hacksterpiece Theatre is a regular column devoted to fun, odd, and interesting retro game hacks. ]
Welcome back to Hacksterpiece Theatre, and thanks for joining us for Part 2 of our series on the "Lost Hacks of DahrkDaiz." Last week, we took a look at Mario Seasons, a nifty Super Mario Bros. hack. This week, I'll be showing you a couple more early NES hacks from DahrkDaiz — one of Ms. Pac-Man and another of Mega Man III.
Pac Man III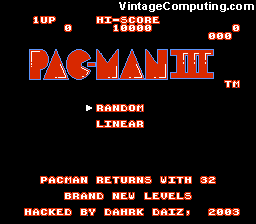 Pac-Man III is an inventive hack of the NES version of Ms. Pac-Man that adds new boards, new colors, new features, and new eyeballs.
Yes, new eyeballs. Ms. Pac-Man has appropriately been changed to Mr. Pac-Man for this hack, but for some reason DahrkDaiz, in his ceaseless quest for NES graphical enhancement perfection, decided to give Pac-Man bulging white eyeballs (if you'll recall, Pac-Man was originally eyeless in the first Pac-Man). After playing this game for about thirty minutes, those disturbingly googly eyes have a startling way of being permanently etched into your brain.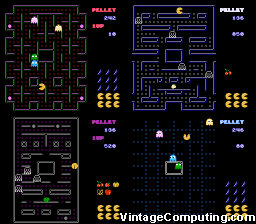 Nightmares aside, this is a really fun hack. DahrkDaiz designed 32 new levels for a wide-eyed Pac-Man to chomp his way through. Some of them are on the traditional side of things (ho-hum square-ish), while some are quite devious (invisible walls!). Never one to just modify a few tiles and walk away, DD had to provide a completely new feature or two. In this case, he provided a new way to play the levels: on the title screen, you can select either "Linear" play, which takes you through the boards in sequential order, or "Random" play, in which (surprise!) you play the boards in a random order. DD also added a pellet counter in the upper-right portion of the screen which keeps track of how many pellets you have left to eat before completing the board.
I've never been a huge Pac-Man fan, but all these new features combined make Pac-Man III feel like an entirely new game to me that is definitely worth a try. You can download the complete Pac Man III game here. And as always, you will need an emulator to play it (I recommend FCEU for Windows).
Mega Man Challenge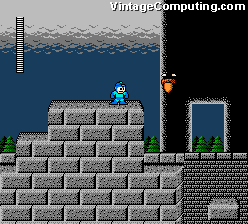 Honestly, this next hack is nothing too special, but I thought I'd include it for completeness.
DahrkDaiz intended to make Mega Man Challenge into a "Mario Adventure" for Mega Man III. That is, he was going to completely overhaul the game. But for reasons unknown to me, he never got very far. The only stage he finished was the "Snake Man" stage, which has a new level layout with new graphics, an impressive parallax-scrolling background, and a new acorn-dropping enemy. DD also added the ability to switch between your weapons with the select button. Like I said, it's not much. But if you want to give it a try, you can download it here.
(Update 06/15/2006: DahrkDaiz has send me a version of Mega Man Challenge with the Top-Man stage completely redone. However, the Snake Man board is not complete in this version. You can download it here if you're interested in seeing some wicked-cool atmosphertic effects added to Mega Man III.)
In our next episode, I'll be profiling another fun Super Mario Bros. 3 hack by DahrkDaiz that I've never even mentioned before on VC&G. This time we'll get to take control of Luigi and help him find his lost coins…
Have any cool, funny, or weird retro game hacks that you'd like to share? Send 'em along!