June 6th, 2006 by
Benj Edwards

[ Hacksterpiece Theatre is a regular column devoted to fun, odd, and interesting retro game hacks. ]
Hello, friends. Welcome to my new regular column on VC&G, Hacksterpiece Theatre, where I hope to profile for you the best, worst, and most interesting retro game hacks in existence.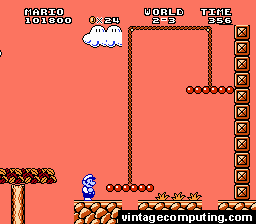 Back in March on Vintage Computing and Gaming, I profiled what I called "The Best NES Game Hack of All Time," Mario Adventure. Shortly after the hack exploded across the Net, I tracked down the author of that masterful piece of SMB3 modification and conducted an interview with him. He goes by the name "DahrkDaiz" in the online retro hacking community, and it is my belief that he is likely the most talented NES game hacker out there today. After many conversations with him about hacking, he agreed to send me some of his earlier NES game hacks that have been relatively "lost" as of late. And by lost, I mean that they were once available for download on his site, but have not been for quite some time. In this inaugural column of HT, and the first in a series of "Lost Hacks of DahrkDaiz," I'll be profiling one of his earliest hacks, Mario Seasons.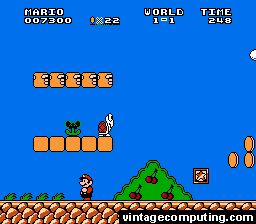 Mario Seasons is a colorful, impressive overhaul of the original Super Mario Bros. for the NES. Notable changes to Super Mario Bros. in this hack include a new power-up, new levels, a new enemy ("Dry Bones" from SMB3, which even comes back to life when you stomp him), completely new graphics (most of which were taken from Super Mario Bros. 3), "slightly different physics" (according to DahrkDaiz), and the ability to save your stage progress between games. DahrkDaiz did such a good job with the graphics and animations that it's often hard to remember that you're not playing a Super Mario Bros. 3-based hack (Try to remember that you can't pick up a stomped Koopa in this game like in SMB3!).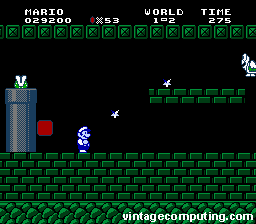 The single coolest thing (pun intended) about Mario Seasons is the new "Ice Flower" power-up. The new ability is similar to the regular "Fire Flower," but when collected, Mario turns a chilly blue and white and shoots painful-looking ice stars out straight ahead of him. Another good thing about the Ice Flower in this hack is that it doesn't replace the Fire Flower power up. In fact, if you are "Ice Mario" and you get hit, you merely get knocked down to "Fire Mario" status. The innovative Ice Flower's appearance in Mario Seasons serves as an accurate foreshadow to DahrkDaiz's future ingenious power-up creations in his later release, Mario Adventure, and in the upcoming Mario Adventure 2.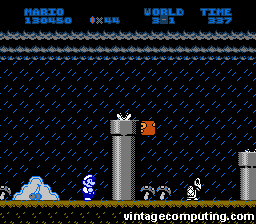 Mario Seasons is a lot of fun, but sadly, it's incomplete. Somewhere during the process of making the hack, DahrkDaiz decided to move on to more ambitious projects (like the masterful Mario Adventure). But what we have left is an interesting start to what could have been a stellar SMB1 hack if completed. The game has at least four complete, new stages — DahrkDaiz tells me he completed seven stages, but the game always crashes for me in FCEU on the fifth board (which is 2-2). You'll have to see if you can get farther than 2-2 in your emulator of choice (Update: DahrkDaiz sent me a new version of the game that fixes the 2-2 crash bug and lets you play all the way into world 3-2 — that's eight new stages). Interestingly, the first world ends at stage 1-3, but world two has four stages as usual.
Let me Play it Already!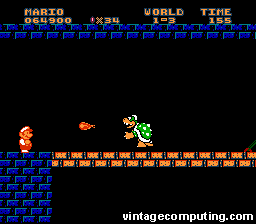 You can download Mario Seasons here, no patching necessary. Remember that this hack is an incomplete work and that it crashes (for me) in the FCE Ultra emulator on stage 2-2. (Update: DahrkDaiz sent me a new version of the game that fixes the 2-2 crash bug and lets you play all the way into world 3-2).
Overall, Mario Seasons is far from the best NES or even SMB1 hack out there, but it served as a promising and worthy start for our rising NES hacker. Stay tuned for the next episode of Hacksterpiece Theatre to see what hacks DahrkDaiz cooked up next! And fear not — after I'm done profiling DahrkDaiz's early years, I'll be moving on to other hacks by different authors for different systems.
Have any cool, funny, or weird retro game hacks that you'd like to share? Send 'em along!