December 1st, 2006 by
mgroves
Time's up for the first Name Those Pixels challenge! Sorry I'm so late with my second entry, but between Thanksgiving and my new Wii, I was a bit distracted last week. Speaking of which, I hope you all had a great Thanksgiving and enjoyed your new PS3/Wii or your console of choice last weekend.
This week, I'm going to mix it up a little bit. We move from the 8-bit era of Roger Rabbit and Magic Johnson into the 16-bit era. The zoomed in view doesn't really look very helpful when it's 16-bit, but I gave it to you anyway. And here's your hint: it is a U.S. Sega Genesis release. You can see Challenge #2 in the image above. As always, post your guesses in the comments section of this entry. Good luck!
—
Here's the answer to last week's challenge. Those of you who noticed that it was the Tradewest logo are very astute. Actually, when I was cropping the picture, it didn't really occur to me that it was their logo. Hopefully the color scheme was unique enough to differentiate from other Tradewest games. Here is the full screen of the game: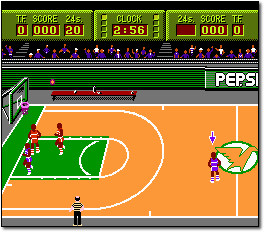 Magic Johnson's Fast Break (NES)
Congratulations to Lone_Wolph (who got it first) and extrarice, you got the correct answer of Magic Johnson's Fast Break.