August 4th, 2008 by
Benj Edwards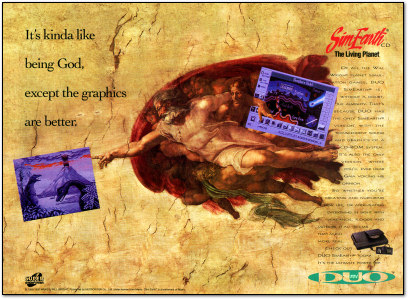 Michelangelo is turning in his grave (eager to play SimEarth, of course).
SimEarth: "It's kinda like being God, except the graphics are better."
If I recall SimEarth in general, it was kind of a dud: after excitedly buying it for the PC upon its release, my brother returned it within a few days, disappointed. I personally have never played it much, nor have I tried the TurboDuo version. But if it has better graphics than being God, then maybe I should give it a second chance.
[ From Electronic Gaming Monthly, June 1993 ]
Discussion topic of the week: What role, if any, should religion have in video games?
If you use this image on your site, please support "Retro Scan of the Week" by giving us obvious credit for the original scan and entry. Thanks.