August 17th, 2009 by
Benj Edwards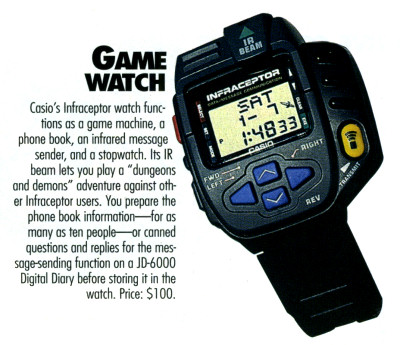 The time? Half-past dagger.
Does anybody know more about this interesting looking watch? I don't recall seeing or hearing anything about it beyond this tiny profile in Popular Science's "What's New" section back in 1995.
Casio's Infraceptor watch functions as a game machine, a phone book, an infrared message sender, and a stopwatch. Its IR beam lets you play a "dungeons and demons" adventure against other Infraceptor users. You prepare the phone book information — for as many as ten people — or canned questions and replies for the message-sending function on a JD-6000 Digital Diary before storing it in the watch. Price: $100.
I wonder how the so-called "dungeons and demons" game worked. I'm completely guessing here, but I suspect it wasn't very fun. It's still a neat concept that I would have killed for as a kid (I can imagine surreptitiously playing it at school).
Check out this neat Japanese page with pictures of other super-nerdy watches on it.
[ From Popular Science, April 1995, p.12 ]
Discussion topic of the week: Tell us about the geekiest watch you've ever owned. (i.e. Calculator? Digital address book? Built-in camera? Dick Tracy-style radio?)