September 21st, 2009 by
Benj Edwards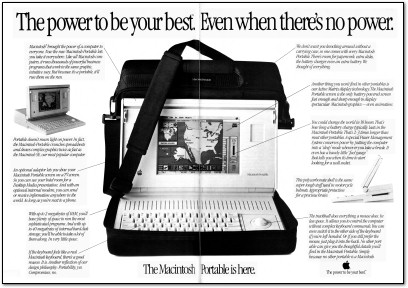 You can't be your best if you don't eat a good breakfast.
Twenty years ago yesterday, Apple released the Macintosh Portable — the first battery-powered portable Mac. I say "battery powered" because in some sense the first compact Macs were very portable in their own way, but they were designed to be plugged into a wall.
Here's the first advertisement for the Mac Portable (that I know of). Apologies for the giant crease down the center, but it was a two page ad. Just for the record: I hate scanning split-page ads. It makes you wonder why any ad designer would want the product they're showcasing to be cleft in two by the folds of a magazine, distorting the image of the product in question. But oh well.
By the way, I've taken apart a Macintosh Portable in honor of this anniversary over at Technologizer (you'll see another post about this soon).
[ From MacUser, November 1989 ]
Discussion topic of the week: What's your favorite Macintosh laptop/notebook/portable of all time?