Monday, May 15th, 2017
Note: this article was originally published on 1UP.com on May 15, 2007 under the title "Videogames Turn Forty." (Original URL: http://www.1up.com/do/feature?pager.offset=0&cId=3159462).
Since 1UP is no longer with us, I decided to republish the article here for historical reference. I have learned quite a bit about video game history in the decade since this was originally published, and naturally some of my conclusions have changed. But this is still a great overview of the work done by Baer, Harrison, and Rusch in the 1960s. I plan to republish my other 1UP articles on VC&G as well in the near future. — Benj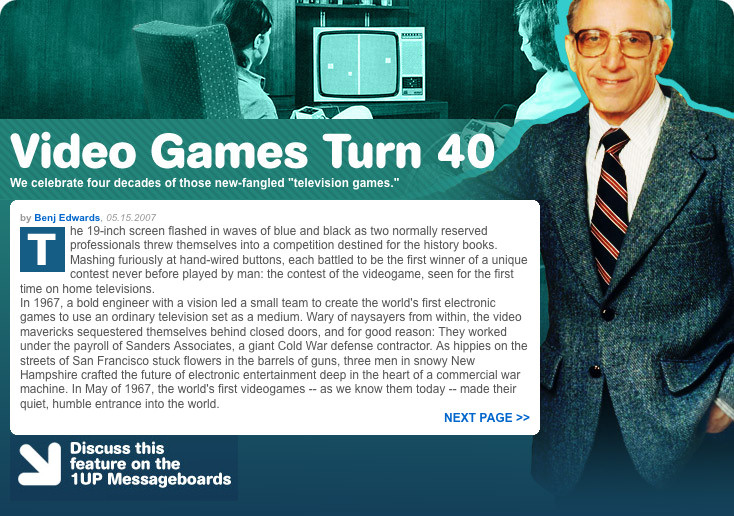 The nineteen-inch screen flashed in waves of blue and black as two normally reserved professionals threw themselves into a competition destined for the history books. Mashing furiously at hand wired buttons, each battled to be the first winner of a unique contest never before played by man: the contest of the video game.
In 1967, a bold engineer with a vision led a small team to create the world's first electronic games to use an ordinary television set as a medium. Wary of naysayers from within, the video mavericks sequestered themselves behind closed doors, and for good reason: they worked under the payroll of Sanders Associates, a giant Cold War defense contractor.
As hippies on the streets of San Francisco stuck flowers in the barrels of guns, three men in snowy New Hampshire crafted the future of electronic entertainment deep in the heart of a commercial war machine. In May of 1967, the world's first video games — as we know them today — made their quiet, humble entrance into the world.
[ Continue reading [ VC&G Anthology ] Video Games Turn Forty (2007) » ]