Monday, July 17th, 2017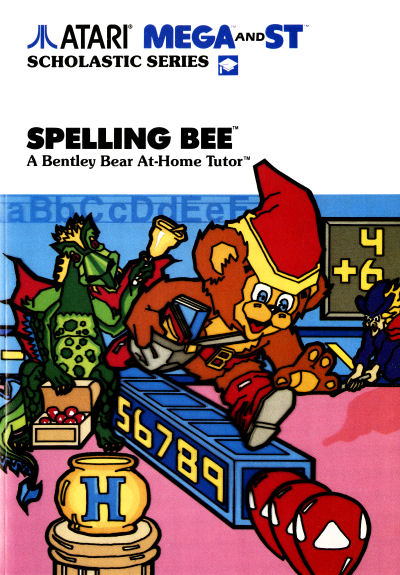 "Follow me, KIDS! Wheeeeeeeeeeeeeeeee!"
I recently visited fellow NC computer collector Tom Copper (hopefully the subject of a future post), and Tom gave me this neat and rare piece of educational software for the Atari ST series. It's called Spelling Bee, and it features Bentley Bear of Crystal Castles fame.
Apparently, Atari made a series of educational games starring Bentley Bear. Sadly, this particular game is not that great. It's just a simple version of Hangman that, in my opinion, does not aid spelling skills at all. I have two kids — ages 7 and 4, and my eldest gets to play all the older educational software I can find. She gave this product a thumbs down. So do I. But it sure is a neat piece of computing history.
(P.S. If you're interested in an overview of great educational games of the past, check out this slideshow I did for PCWorld back in 2015).
[ From Scholastic Series Spelling Bee by Atari, 1988, cover/back ]
Discussion Topic: What's your favorite educational PC game of all time?