Monday, November 9th, 2015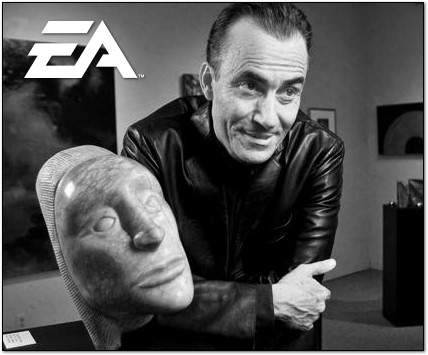 10 DAYS OF VINTAGE: Day 8
[ This interview I conducted was originally published on Edge.com in June 2012 to roughly coincide with Electronic Arts' 30th Anniversary. Since then, the interview has disappeared from the web. A few people have asked me to make it available again, and since I retained the rights to the interview, I am free to publish it on VC&G for everyone to enjoy. ]
Originally Published on Edge.com in June 2012:
Electronic Arts is 30 years old, and there is no denying that the behemoth game publisher casts a long shadow of influence over the entire industry. The company, founded in May 1982, pioneered a business model that treated game designers like rock stars and software publishers like record labels. It pushed the use of big names and big licenses in sports (think Madden, NFL) and soon grew to gobble up many renowned development studios to become a massive entertainment conglomerate.
These days, that conglomerate catches lots of flack from gamers on various issues including employee treatment, content milking, premature server termination, and more. Whether or not those criticisms have any merit, there is no denying that Electronic Arts was once revered as a top corporate impresario for identifying and cultivating the world's best game design talent (although one would have to admit that time was very long ago).
The man behind the early, creatively-rich image of EA is Trip Hawkins, an Apple veteran who founded the company with a simple dream: to bring his sports simulations to life. Hawkins, now 58, left EA in 1991 to start The 3DO Company, which folded in 2003. He then launched mobile game developer Digital Chocolate that same year. Just recently, Hawkins announced he was stepping down as CEO of Digital Chocolate to face an as-yet unrevealed future.
In late May of this year [2012 — Ed.], on the occasion of EA's 30th anniversary, I spoke with Hawkins over the telephone and via email about the creation of Electronic Arts, the design of its early games, and at some length about the negative criticism the company tends to attract today. Along the way, we touched on the personal source of his creative spirit and about heady days as a close friend of Apple co-founder Steve Jobs.
[ Continue reading VC&G Anthology Interview: Trip Hawkins on 30 Years of Electronic Arts (2012) » ]