Monday, June 3rd, 2013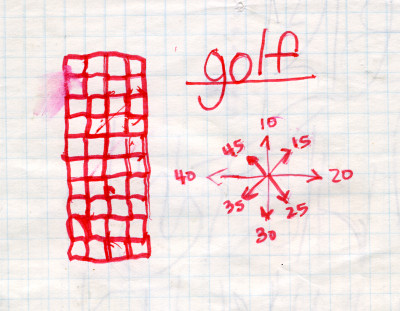 If there were only 40 degrees in a circle, this is what it would look like.
There is a certain rustic beauty in hand-drawn video game notes that I will never cease to enjoy. Case in point: this map/reference key created by family friend Chris when he was a kid in the 1980s. I'm not quite sure what game it was for (other than "Golf"), but it was likely a game for the Apple IIc, as I found it among related Apple IIc ephemera when I acquired his collection some years ago.
For more hand-drawn video game goodness, check out this VC&G post about my friend's Deadly Towers maps from 2006.
[ Update: 06/03/2013 – I was just talking to my brother, and he thinks that either he drew this alone or I wrote the letters and he drew the numbers. It was either a reference to a Golf game he programmed in C in 1991, or an old Atari 800 golf game that I haven't found yet. I still think it's possible that Chris wrote the letters. ]
[ From Chris' Apple IIc papers, circa mid-late 1980s ]
Discussion Topic of the Week: Do you ever hand-draw maps for modern video games?