October 8th, 2007 by
Benj Edwards
It happens to the best of us.
How many of these puppies do you have sitting around? A fellow on eBay is selling a lot of 36. I'll have to admit: I have a box of a few dozen myself.
The object in question, of course, is the once-essential manual RF switch, commonly known as a "TV/GAME" switch. Such switches were used to alternate between RF video/audio input from a video game system or home computer and a broadcast (or cable) TV antenna signal. They went the way of the dodo in the mid-1980s — first in Japan with the introduction of Nintendo's innovative automatic RF switch box (it came packaged with every Famicom produced from 1983-1993), and then in the US around 1985 with the introduction of the NES (which included an automatic switch box with every unit sold). Later, RF switches in general became endangered once nearly all consumer TV sets started shipping with separate A/V jacks for composite video and stereo audio. The choice was natural, as video quality through an RF antenna input is inferior to a composite video connection.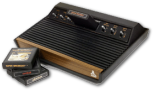 Even among collectors, manual TV/GAME switches are mostly useless these days because most of us try to make at least composite (or better) video connections to our TVs, either via special cables or modifications to the systems themselves. Still, if you want to play classic machines like the Atari VCS without video hacks, you'll probably need to use one.
Does anybody out there collect these things? We'd love to hear from you.