December 30th, 2013 by
Benj Edwards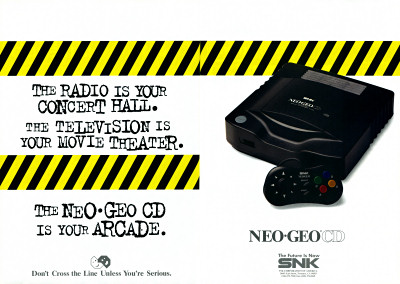 "Don't cross the line unless you're serious."
In all my two decades of video game collecting adventures, I've never personally owned a Neo-Geo console. (I have owned a Neo-Geo Pocket Color, but that's different.) It's probably because I started collecting with inexpensive systems, games and accessories, and the Neo-Geo line was always scarce and expensive. Also, I was never particularly drawn to the Neo-Geo's brand of action-heavy arcade games.
So part of me wants to rectify the lack of Neo-Geo in my life, even if only for completion's sake. But then again, I've played the games on emulators for over a decade now, and I've been satisfied with that. What do you guys think?
[ From Electronic Gaming Monthly, September 1995, p.74-75]
Discussion Topic of the Week: What was your first CD-based video game system?