July 28th, 2014 by
Benj Edwards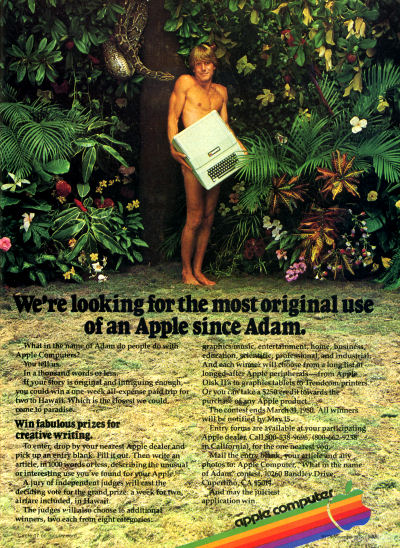 Where's Eve? Oh wait.
This ad is actually for an Apple II-themed creative writing contest, but you'd never know it. That's because the gobs of tiny, hard-to-read text are completely overshadowed by the nude man in a jungle holding an Apple II over his crotch.
And that man happens to be Adam from Genesis.
Oh boy.
So there you have it, folks. The Apple II was responsible for the fall of man. You know — that time Adam ate from the tree of the knowledge of good and evil, casting all of humanity into sin. Here's a tasty quote from Wikipedia:
For many Christian denominations the doctrine of the fall is closely related to that of original sin. They believe that the fall brought sin into the world, corrupting the entire natural world, including human nature, causing all humans to be born into original sin, a state from which they cannot attain eternal life without the grace of God.
You probably won't see me discussing theology on this blog ever again, but I find this ad quite funny because, despite its tongue-in-cheek cuteness, the biblical interpretations stemming from it are myriad and potentially wildly unexpected, making this a complete failure of marketing. But that failure was likely overlooked. This was 1979 — early in the life of Apple — and it was also before the Great Masses of the Offended had a strong enough voice (i.e. The Internet) with which to share and froth over everything that displeased them.
[ From BYTE – November 1979, p.33]
Discussion Topic of the Week: How do you think people would react if Apple published an ad like this today?