September 8th, 2014 by
Benj Edwards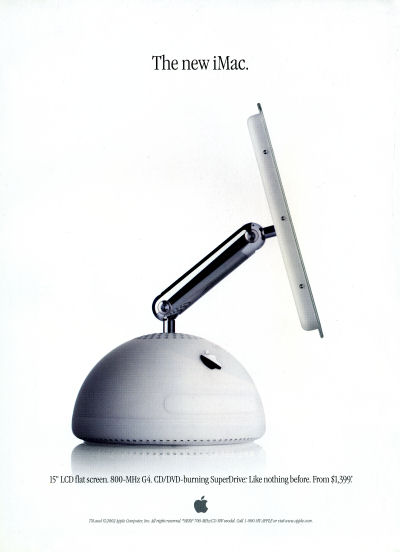 White on white. Amazing that it shows up.
On the eve of a potentially large and impactful reveal of new Apple products, I thought it an opportune time to take a look back at this now-12-year-old debut advertisement for the iMac G4. And to wax nostalgic about Apple product events.
The ad itself is clean, white, minimalistic, and so modern-feeling that I think it would work very well, unchanged, as a print advertisement today.
As for Apple product launches, I've been closely following them since the debut of the original iMac in 1998. (As an aside, I remember telling my dad to buy Apple's stock when it was $14 a share in late 1997 — not long after Steve Jobs had returned to the company — and he scoffed at me.)
For the next five years after that first iMac launch, the excitement of unexpected new Apple products seemed to build relentlessly, each one seemingly trumping the last. There was the Power Mac G3 (blue and white), the iBook, the Power Mac G4 Cube, then, of course, the iPod (although nobody really knew what a big deal the iPod was at the time).
Then came the iMac G4, and I had to have one. Prior to that, I had last used a new Mac in 1987-88 with the Macintosh SE, but our family had been Windows-centric since then (today I use OS X, Windows, and Linux almost equally). After much pestering, I convinced my dad to loan me the cash to buy the high-end iMac G4 model with the 800 MHz CPU and the DVD-burning SuperDrive.
Unlike any machine before or since, it felt like I was buying a complete computing experience. Coupled with a newly revised version of OS X (10.1, I believe), it felt like a new era of computing was upon us. Keep in mind I was coming from the "must reinstall every year, crashes every 10 minutes" world of Windows 98.
The iMac G4 design turned heads; its release was truly a watershed event in Mac history that brought a lot of "switchers" from the Windows world. I showed that thing off to everyone, taking it into my dad's office to demonstrate it to folks there, and I even invited my mailman (a confessed Mac fan, as I had learned from prior conversations) to come inside one day while he was dropping off a package to try it out.
I used that iMac daily for email, iChat, photo management, and web browsing until around 2006 when the already overtaxed machine couldn't keep up with modern websites. Today, it sits proudly on a desk in my office, ready to be called to duty for whatever PowerPC-era Mac task I might throw at it.
By the way, if you're interested in learning more about the iMac G4, I wrote an article about the machine — one of my personal favorites — for Macworld back in 2012.
[ From Esquire – June 2002, rear cover]
Discussion Topic of the Week: What new Apple product were you most excited about when you first heard of it?