May 18th, 2015 by
Benj Edwards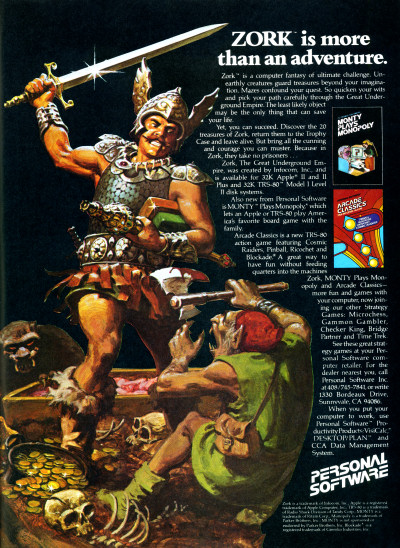 A scene from "Zork: Brick Collector"
This is it, folks: an early ad (maybe the first) for the original commercial release of Zork, the famous Infocom text adventure, published by Personal Software ca. 1980 for the TRS-80 Model I and III home computers.
(This site has some wonderful background history on this release.)
I love the artwork featured in this ad. It is excised from the full cover art for the Personal Software version, which captures a great deal of the majesty and wonder of the seminal adventure title — plus a hefty dose of out-of-place machismo.
The mere mention of Zork takes me back to the mid-1980s when my older brother delved into the Great Underground Empire with the aid of photocopied maps and worn out InvisiClues on our family's Atari 800. Warm, fuzzy memories. Of course, by then, Infocom published the title directly.
[ From Byte, February 1981, p.31]
Discussion Topic of the Week: What's your favorite text adventure game of all time? (Modern ones count.)