June 29th, 2015 by
Benj Edwards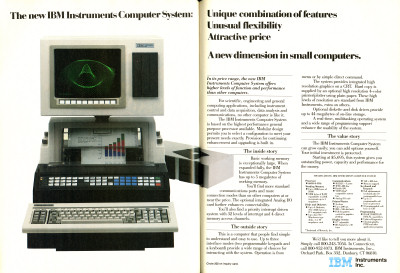 The IBM Instruments Computer System
What a strange machine. The IBM Instruments Comptuer System was a completely modular 68000-based PC with its own custom OS (CSOS, according to Wikipedia, which stood for "Computer System Operating System" — ???). It also utilized Motorola's rarely-seen Versabus bus architecture. The ICS was aimed at scientific and engineering use, and it launched in 1982 — the year following the launch of the IBM PC 5150.
Has anyone used or seen one of these? This is an oddity of oddities. Thank goodness the IBM PC didn't end up like this.
[ From BYTE Magazine, February 1983, p.116-117]
Discussion Topic of the Week: What was the first IBM brand computer you ever owned (even when collecting)?