August 21st, 2006 by
Benj Edwards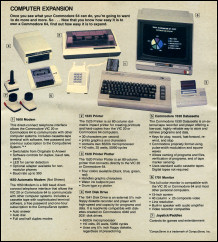 Deep down in the murky depths of an ancient and musty box of Commodore paraphernalia that I'd never before sorted through, I recently discovered a somewhat stained and mildly discolored promotional C64 pamphlet. Who knows how many years it spent rotting in someone's extra-dank basement before it eventually came into my possession. This particular scan is one set of pages from that very pamphlet, detailing various expansion options for a Commodore 64 computer system.
The 1701 monitor and it's successor, the 1702, were (and still are) real workhorse displays. I can't even begin to fathom how many hours of usage my 1702 has seen over the years (not just from the last ten-plus years of my usage, but from someone else for ten years before that!), but it has held up incredibly well. The picture is bright, steady, and easily adjustable, making it the favorite and most frequently utilized composite video monitor in my collection. With a flat top and steady bottom, it's highly stackable too, which is a great bonus.

I particularly like the description of the stylish "1600 Modem," a 300 bps screamer that apparently came with a "free password and one-hour subscription to the CompuServe system." Wow, did they say one whole hour? You mean I can stay online for sixty (count 'em, 6-0) minutes!? Well wax me with a grasshopper and call me St. Jocephus.
Actually, now that I think about it, this pamphlet is from when CompuServe cost around $30/hour (in 1982-83 dollars) for connection time, so I guess it was actually a good deal.
If you use this image on your site, please support "Retro Scan of the Week" by giving us obvious credit for the original scan and entry. Thanks.