May 15th, 2007 by
Benj Edwards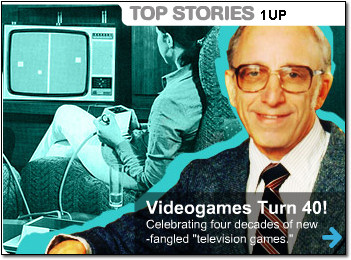 It's true: in 1967, Ralph Baer and Bill Harrison created the world's first television video game hardware. And forty years ago today (May 15th, 1967), the first television video game took place. Who won? Mosey on over to 1UP.com and check out the full feature I wrote about it. You'll find out that answer and a lot more.
Also check out the interviews I've conducted with the two participants in the monumental contest, Ralph Baer and Bill Harrison. I just published the Bill Harrison one today.
As an extra treat, here's a video of Ralph Baer and Bill Harrison demonstrating their Ping-Pong game on the "brown box" prototype at Sanders in 1969. Ping-Pong would later form the basis for Atari's famous Pong.
I would like to extend a special thank-you to Ralph Baer, Bill Harrison, and the family of Bill Rusch for their generous and invaluable help with this story. I could not have written it without them.
Happy birthday, video games.