September 17th, 2007 by
Benj Edwards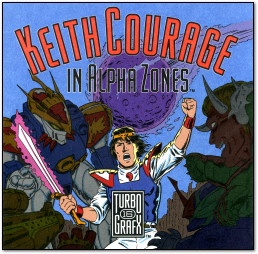 In 1989, the TurboGrafx-16 made its American debut with a lackluster pack-in title, Keith Courage in Alpha Zones. Included within the Keith Courage game was an approximately 4.5″ x 4.5″, eight page mini comic book setting the story for the game.
Keith Courage was originally based on a Japanese cartoon called Spirit Hero Wataru, but, in line with conventional thinking of the day, NEC felt that the crazy Japanese story needed to be dumbed down for American audiences. Let's take a look.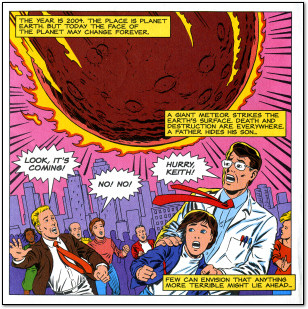 It's 2004, and a huge meteor strikes the surface of the earth. A scientist and his son, Keith, run for cover.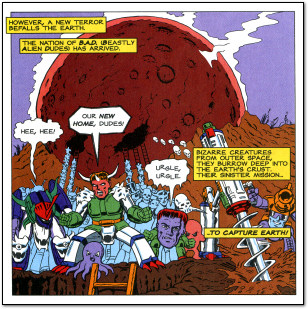 Instead of annihilating everything, the meteor settles gently to the ground in one nice, spherical piece. Its surface cracks open, and out swarm thousands of freaky creatures, all members of the nation of Beastly Alien Dudes (BAD). One of them has a gaping metallic mouth for a codpiece. They burrow into the ground in an attempt to "capture the earth." Little do they know that most of its inhabitants live on the surface of the planet.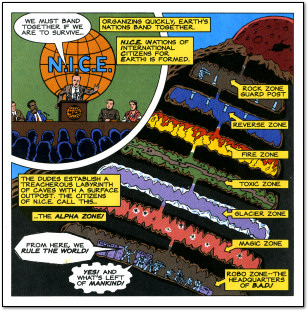 Concerned surface humans form NICE, a Utopian world governing body that simultaneously "eliminates poverty" and declares war on BAD. Significantly lacking foresight, the nation of BAD constructs a treacherous seven-level labyrinthine base, each level having a distinctive theme based on a first grade conception of climatology. Surface runs for coffee and necessities become a significant chore and are subsequently handed off to the lowest-ranking alien interns.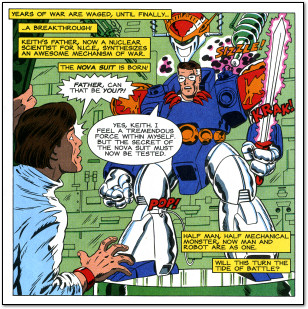 Years of "war" go by as NICE employs liberal use of the impotent alien threat as a strawman to enforce its restrictive and power-concentrating policies on the hoodwinked populace. A top nuclear scientist for NICE formulates a generally useless token weapon — which includes, among other features, a sword — to appear as if progress has been made in the never-ending war. The Japanese rejoice.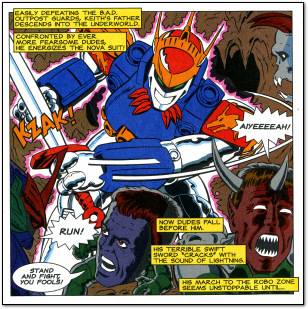 In a carefully planned operation, the scientist, cloaked in the Nova Suit, easily infiltrates the lightly-guarded alien base and begins a merciless rampage against the incompetent, coffee-swilling aliens of BAD. Thousands of innocent, gigantic-headed beings are killed in the massacre.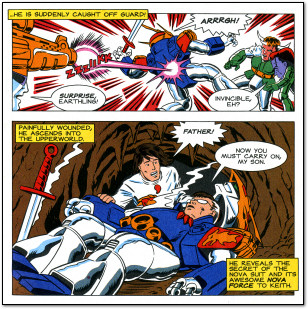 After sustaining massive casualties during their attempt at peaceful resistance, the aliens decide to fight back. The worthless Nova Suit — made of cardboard and fiberglass all along — fails to protect the misguided mass-murderer. NICE conveniently uses the fall of its top scientist at the hands of BAD as potent propaganda to further concentrate its power.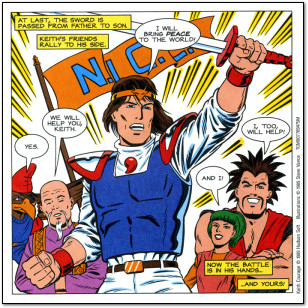 With the death of the scientist, humanity's deep racial hatred of the aliens is passed to a new generation. The scientist's son, Keith Courage, takes up the cause for peace by wielding a massive sword and vowing to systematically hunt down and destroy each and every alien on the planet. Keith rallies the populace and becomes the poster boy for NICE propaganda. The war continues. Will you join them in their fight?