September 26th, 2007 by
Jonathan Signor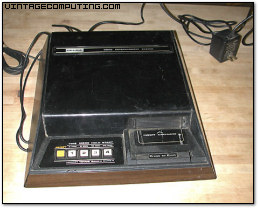 [ In Jonathan Signor's first contribution to VC&G, he describes an incredible find that any collector of vintage games can appreciate. ]
For those of us who strive to remember or rediscover vintage computers and video games, it is rewarding to see how far we have come in such a short amount of time. However, this hobby has one disadvantage: you generally can't walk into a used game store and find an obscure, twenty year-old title. You must go out of your way (and usually pay a hefty price) to find something interesting.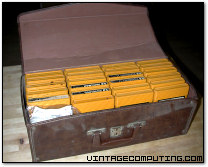 I keep track of the Computer, Electronics, and Toys "For Sale" listings of my local Craigslist through RSS feeds of each section. A few weeks ago I saw someone was selling a Fairchild Channel F, with 25 games and game carry case. I emailed the seller and we set up a place and time to meet. He advised me that the Channel F wasn't working at the time, but I still wanted to buy the system and add it to my collection. Since I didn't know much about the Channel F at the time, I didn't really pay too much attention to what games were included.
When I got the goods home, I took a look at the cartridges – usually the first thing I do with used games is clean those contacts with denatured alcohol and a cotton swab. Since the cartridges are from the mid 70s, the adhesive on the labels had deteriorated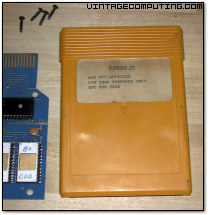 on most of the cartridges, resulting in the labels falling off. Some of them didn't have labels to begin with – they were labeled with "NOT FCC APPROVED, FOR DEMO PURPOSES ONLY, NOT FOR SALE." Needless to say, I was curious, and proceeded to pop open the cart. Confirming my suspicion, I found removable components on the cartridge board: prototypes! The holy grail of any game collector! Now I really wanted to get the system working, to see if the prototypes still worked after 30 years. I contacted the seller and asked if he was the original owner of the system and games. It turns out that his father was one of the original engineers who worked at Fairchild and developed games for that system.



I cleaned up the console a bit, and tried to plug in the power brick, but was greeted by the sound of electricity arcing in the little plastic box. Not good. Not wanting to damage the games, or risk electrical trouble elsewhere, I decided to not try this system out for the moment. My next step is to try and find a local electronics repair shop that can diagnose the problem and fix it.
An obscure 30 year old console, 25 games (some of which are prototypes), and a game carrying case — all in all, not a bad deal for $25 (US).