November 5th, 2007 by
Benj Edwards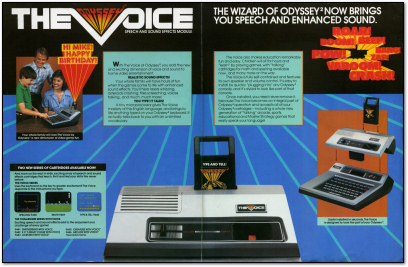 I acquired this slick brochure promoting "The Voice" some years ago when I bought a nice collection of Odyssey 2 stuff. The Voice add-on unit apparently added speech synthesizer capabilities (and enhanced sound effects, according to the flier) to Magnavox's Odyssey 2 console. I don't own a "The Voice," but I've always wanted one. They're very rare, so if anybody has one they don't want anymore, let me know.
Did anyone out there have one of these units?
If you use this image on your site, please support "Retro Scan of the Week" by giving us obvious credit for the original scan and entry. Thanks.