February 11th, 2008 by
Benj Edwards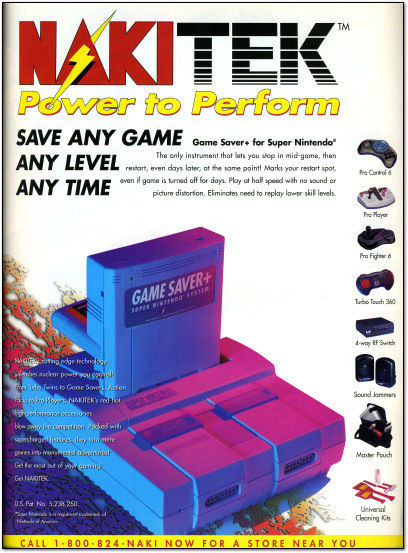 Who needs emulators? Accessory maker NakiTek released an innovative device called the Game Saver+ in the mid-1990s that allowed gamers to store the exact state of their game at any time to memory. As you can see by the picture, the unit worked a bit like a Game Genie, acting as a bridge between a cartridge and the SNES. While playing, you could save your game by pressing something like Select + Right Shoulder button. To restore the game state, you'd press Select + Left Shoulder button (I forgot the combinations exactly). As long the Saver unit received power — either via the SNES's AC adapter, which passed through the unit, or AA batteries — the Game Saver+ would save your game state. It also offered a few extra features like "slow motion" play.
Unfortunately, the Game Saver+ was released too late in the life of the SNES to make much impact. I picked one up in the late 1990s on clearance at Wal-Mart for a few bucks. By that time, I was already emulating the SNES on my PC.
From what I've read, the Game Saver+ didn't work too well with certain games, causing graphical glitching upon resuming your state. In my experience (I remember mostly playing Super Castlevania IV with it), it seemed to work fine — although I wouldn't want to depend on it.
[ Scanned from Electronic Gaming Monthly, January 1995 ]
If you use this image on your site, please support "Retro Scan of the Week" by giving us obvious credit for the original scan and entry. Thanks.