March 3rd, 2008 by
Benj Edwards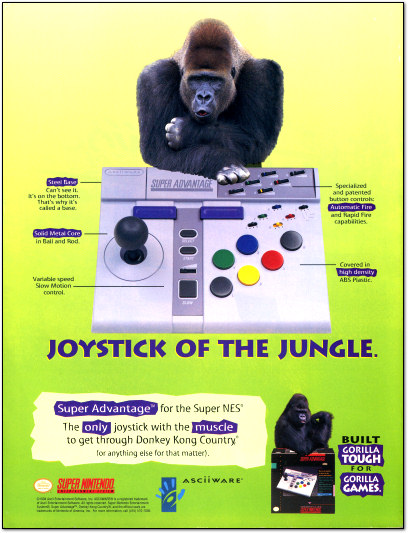 It's true: most controllers can't stand up to the intense punishment delivered by the average Donkey Kong Country player. That's why Asciiware created the Super Advantage joystick for the SNES. It's built "gorilla tough" for "gorilla games."
Woah there — don't try using this sophisticated piece of technology on a non-gorilla game, or that tiny gorilla (pictured) will jump out of the controller and smack you. Just a warning: he goes straight for the eyes.
Discussion topic of the week: What if standard joysticks looked like this in the Atari 2600 era? How would games have been different?
If you use this image on your site, please support "Retro Scan of the Week" by giving us obvious credit for the original scan and entry. Thanks.