June 2nd, 2008 by
Benj Edwards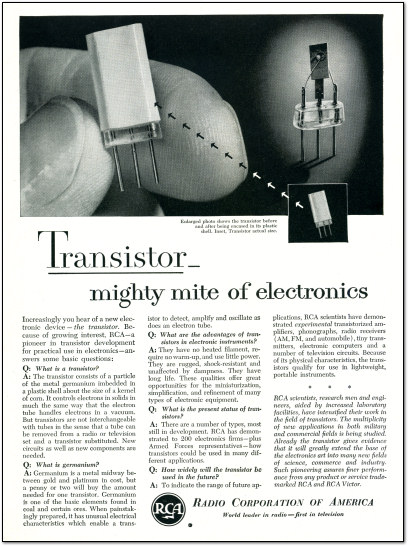 The transistor — need I say more?
Let's give a big round of applause to the electronic component that made our current computer revolution possible: the transistor. Here's an advertisement from RCA touting the benefits of solid state transistor technology from a time when it was still novel. 55 years later, we'd be cramming 300 million of these onto a single piece of silicon smaller than a penny. And Microsoft Word still runs slowly.
[ From Scientific American, April 1953 ]
Discussion topic of the week: What was your first computer's CPU clock speed?
If you use this image on your site, please support "Retro Scan of the Week" by giving us obvious credit for the original scan and entry. Thanks.