August 11th, 2008 by
Benj Edwards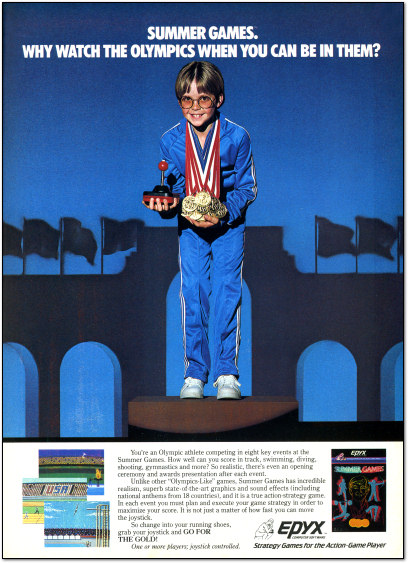 "Why watch the Olympics when you can be in them?"
24 years ago, EPYX delivered the industry's best Olympics simulation to date in time for the Games of the XXIII Olympiad. While real athletes struggled for the gold in Los Angeles, kids at home recreated their heroes' moves in digital form, courtesy of Summer Games.
In the mid 1980s, my brother, his friends, and I would pull out EPYX's Summer Games every year and compete for the best records. We played the Atari 800 version, although EPYX released the game on the Commodore 64 and other platforms as well. Completing all events in Summer Games felt like a real, epic challenge. Our quest for world records was aided by the fact that the game saved our high scores to the disk. (Our 1980s scores are still on that disk, by the way, and I've been meaning to back it up for years before it gets screwy.)
To this day, EPYX's masterpiece is still my favorite Olympic video game. In the spirit of the 2008 Beijing Games, I pulled out Summer Games last night and played it while the real Olympics unfolded on the TV behind me.
[ From Compute!, June 1984 ]
Discussion topic of the week: What's your favorite Olympic event to play in a computer or video game? (e.g. diving, gymnastics, decathlon, etc.)
If you use this image on your site, please support "Retro Scan of the Week" by giving us obvious credit for the original scan and entry. Thanks.