November 3rd, 2008 by
Benj Edwards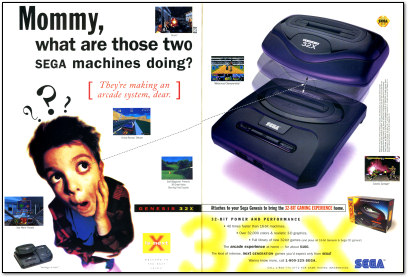 (click for full advertisement)
Sega created some pretty edgy advertising in the mid-1990s, so it came as no surprise when they used a risqué visual metaphor to introduce their new 32X add-on for the Genesis. Sadly, the only fruit this unholy union bore was Sega's eventual failure in the hardware market.
[ From Electronic Gaming Monthly, January 1995 ]
Discussion topic of the week: It's a tough call: are there any decent games for the 32x?
If you use this image on your site, please support "Retro Scan of the Week" by giving us obvious credit for the original scan and entry. Thanks.