December 8th, 2008 by
Benj Edwards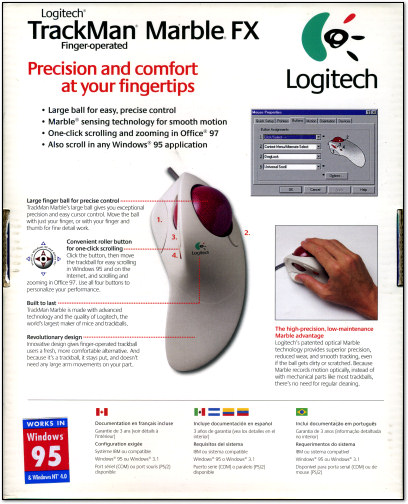 I didn't find this one in the creek.
And now, I present to you…a box. I know it's not that old, but I've been hanging on to this scan since I finally threw out the packaging for my TrackMan Marble FX a few years ago (I scanned it first). I believe I bought this trackball around 1998. I had another Logitech trackball before it, but I was fed up with cleaning the rollers every few weeks. The neat thing about the TrackMan Marble series is that it used an optical scanning mechanism that tracked the movement of dots printed on the marbled red ball. I used the FX for years until it finally crapped out — some components inside of it irreparably broke, although I still have the parts. There's more to my TrackMan Marble story, though, albeit with a different model.
Trackball Creek
When I moved to a new house a few years ago, I walked out one day to explore a twisty, shallow creek in the woods behind my house. The stream lies in a flood plain that gathers nearly all the water runoff in the area when it rains, so it regularly overflows its banks.
Some ways up the creek, I found a makeshift junkyard of soiled, broken goods both tossed and washed in from every direction. There, among the discarded bicycle spokes, power drills, soggy basketballs and broken mirrors, I spotted a curious looking ball protruding from the mud. I pulled it out and realized that it was a red trackball for a Logitech TrackMan Marble.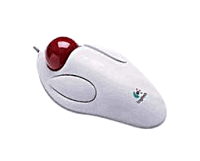 Months later, I found the unit itself, and it looked like this. I took it apart to see if I could salvage anything of interest, but, of course, sitting half a decade in a muddy, wet environment isn't conducive to the proper operation of electronics. Beneath the dirt — caked and wedged between every crack imaginable — I found nothing but a corroded mess.
For a few weeks, the unit served as a strange fence ornament in my back yard until my wife complained about it, then I threw it out. In the end, I walked away with a nifty red trackball, half-bleached orange from years in the sun, that I still have in my collection. It serves as a token from an almost embarrassingly pitiful lesson in technological humility — how something once new, shiny, high-tech, and amazing can be quickly rendered worthless and derelict by an apathetic hand a coat of mud.
[ From back of TrackMan Marble FX Box, circa 1997 ]
Discussion topic of the week: It's one of the great debates: trackball or mouse? You tell me!
If you use this image on your site, please support "Retro Scan of the Week" by giving us obvious credit for the original scan and entry. Thanks.