July 13th, 2009 by
Benj Edwards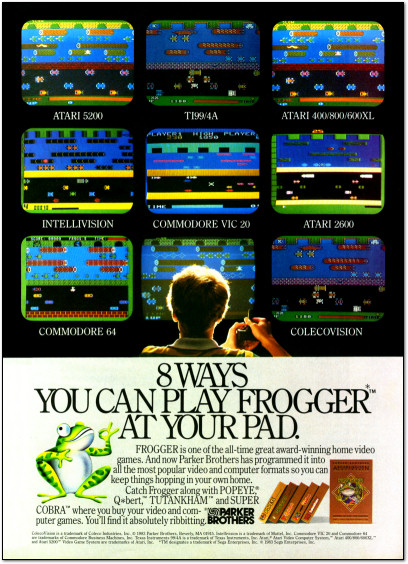 "8 Ways You Can Play Frogger at Your Pad."
These days, big name games usually come out on a couple different platforms: Xbox 360 and PS3, and sometimes PC or Nintendo DS. But imagine a time when a standard multi-platform game release included eight computers and video game systems: Atari 5200, TI-99/4A, Atari 400/800/600XL, Intellivision, Commodore VIC-20, Atari 2600, Commodore 64, and Colecovision.
That time was 1983, as seen in the ad for Frogger above. Thanks to the lack of a common standard in home computers at the time, there were actually far more than eight computer platforms available in the early 1980s, but some of the most major are listed above (along with the main video game consoles of the day). I bet it was an enormous effort to coordinate the development and release of all those different versions within a short window of time.
[ From Personal Computing, December 1983 ]
Discussion topic of the week: For those who were there: How many computers/consoles did you own simultaneously around 1983?